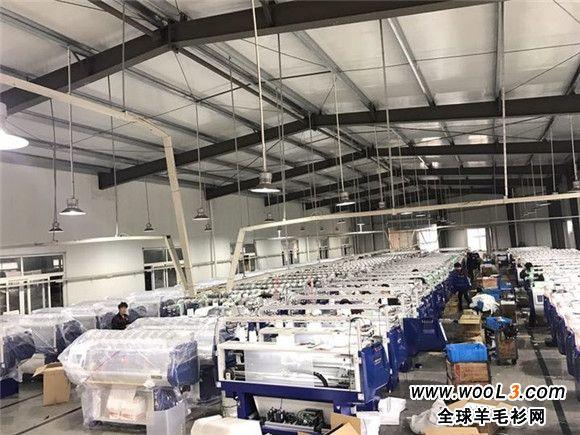 If the enterprise is strong, the industry is strong; if the industry is strong, Tongxiang is strong. Under the clarion call of the city to vigorously develop the real economy with advanced manufacturing as its core, Tongxiang enterprises, big or small, unite as one, chase after me, use small goals and new achievements to build Tongxiang's real economy. . How much can I contribute? How can I achieve it? From now on, we will open a column "Doing entities, looking at Tongxiang enterprises" to see how Tongxiang enterprises can do their jobs and climb the peak bravely!
   Let us walk into Tongxiang Qianglong Machinery Co., Ltd.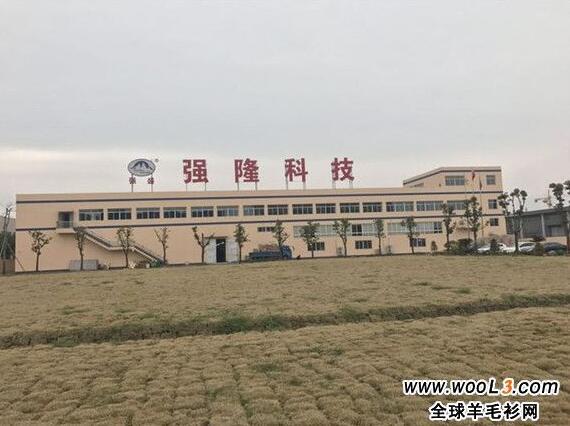 Business card
   Tongxiang Qianglong Machinery Co., Ltd.
   From a small team of more than a dozen people in 2000 to hundreds of employees today, Tongxiang Qianglong Machinery Co., Ltd. has quietly become a leader in the field of computerized flat knitting machines in just a decade.
   corporate lens
In the production plant area of ​​"Qianglong Machinery", workshops such as precision, flat knitting, and assembly are speeding up. The processing and production of computerized flat knitting parts are completed here, and the rationalized assembly line of computerized flat knitting is underway. Commissioning and inspection of finished products.
   "Cut off the bloated product line and focus on one product." Wang Jingmin, the founder of "Qianglong Machinery", said with a smile, letting each product become the link between them and their customers, it is the "flat knitting machine" that makes him Found its own value.
   contribution goal
   This year's annual sales target has exceeded 500 million yuan, moving towards the 600 million yuan mark.
Realize
  Deeply cultivate the flat knitting machine industry and continuously win development momentum with independent innovation
As a Wenzhou native, Wang Jingmin may be born with such a craftsmanship spirit. During his 30-year career in the machinery industry, he started from hand-cranked flat knitting machines to the promotion of electric flat knitting machines, to the upgrade of computerized flat knitting machines, and "machines". The digital factory promoted by "substitution", and now the international expansion of Industry 4.0 into the sweater equipment manufacturing industry, is precisely relying on this perseverance that he and his team pursue excellence, continuously improve and refine their own works.
   Wang Jingmin has liked to deal with machinery since he was a child. At the age of 15, he started as an apprentice in a textile machinery factory in Wenzhou's Yaqian Village. Since then, the word "flat knitting machine" has never left his life. From apprentices to general workers to technical workers, "Go to the outside world and make a breakthrough." There is always such a voice in Wang Jingmin's heart that guides forward.
   I heard that the textile industry in Jiaxing is well developed. In 2000, Wang Jingmin came here and completed the primitive accumulation by hand-cranked flat knitting machines in Honghe Town. In 2009, considering the expansion of the market, coupled with the prosperity of the Puyuan market, with a keen sense of smell, Wang Jingmin shifted his position and took root in the Wutong Industrial Park, and also realized the transformation from a hand-cranked flat knitting machine to a computerized flat knitting machine. Transformation and upgrading.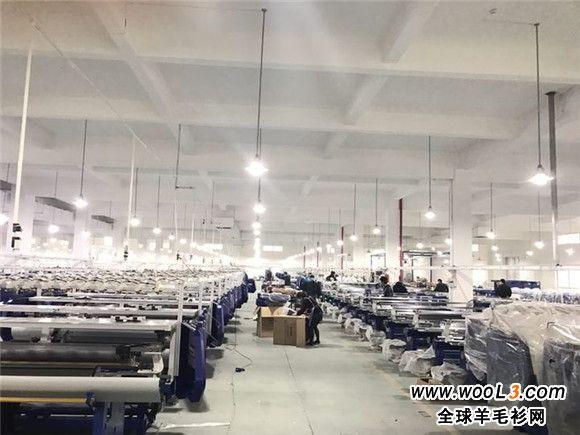 According to reports, the company achieved sales of 380 million yuan in 2016. "In the past two days, an average of more than 100 computerized flat knitting machines (sets) were produced every day. The annual sales target for this year is to exceed 500 million yuan and move towards the 600 million yuan mark." Wang Jingmin said confidently.
   What gave Wang Jingmin so much "ambition"? His answer: increase investment in science and technology and enhance independent innovation capabilities.
After a long-term accumulation of technology and management, he has been sticking to the flat knitting machine industry. In the last 5 years or so, he has won a historic opportunity to build "Qianglong Machinery" into a leader in the industry. In the next 5 years, if Want to continue to maintain growth inertia, Wang Jingmin knows well that he must show his "trick."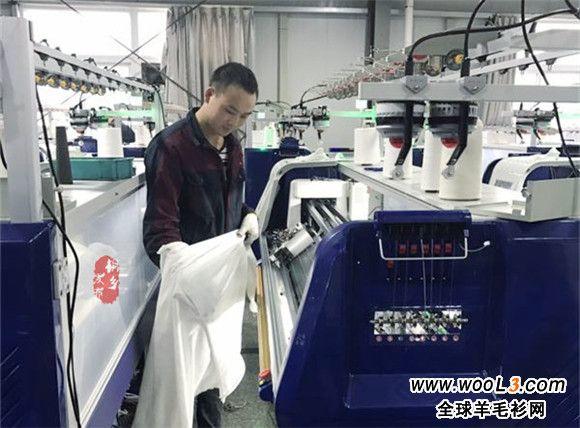 "Only innovation can be the leader." This is the creed that Wang Jingmin has always adhered to. In order to find the next new growth fulcrum for "Qianglong Machinery", he has spent much time on product innovation. He personally took command and led a scientific research team of more than 20 people dedicated to product technology innovation. Today, he holds more than 80 patented inventions and invests more than 10 million yuan in research and development every year. The scientific research team led by him has also been given a new mission: only transcendence can develop, and only development can progress.
   Focus on the cultivation of "ingenuity", create value for customers, and win a broad market
At the end of last year, a so-called "needle selection triangle control device in the bottom plate of a dual-system flat knitting machine" was born in the hands of the R&D team of "Qianglong Machinery", and it quickly opened up a new sales situation for the company.
   "Under the same time and at the same cost of electricity, this machine can make two more clothes than an ordinary computerized flat knitting machine." This new product that Wang Jingmin is proud of, uses two sets of motors for independent control. Make the double system flat knitting machine have more choices in the knitting function.
   According to reports, the product can be controlled by electrical appliances and independently use a single knitting system. That is to say, the double knitting system can only use a single knitting system to complete the knitting under specific knitting requirements, which reduces the rotation distance by nearly half. , The knitting efficiency can be increased by 10 to 15%. Compared with the flat knitting machine previously controlled by electromagnets on the market, this new product greatly prolongs the service life due to the less friction between the electromagnet and the guide rail, which not only improves the stability but also improves the accuracy of control.
   This change alone, for customers, means the economic benefits brought by a 20% increase inefficiency.
   "This year's orders for dual-system flat knitting machines have been scheduled to May, and we are increasing productivity." Sheng Yuezhong, who is in charge of order connection, has been busy recently. He said that since its launch last year, this product has been favored by customers. This year alone, its sales have exceeded 2,000 units (sets). The production of dual-system flat knitting machines not only brought a "leapfrog" in sales performance, but also made "Qianglong Machinery" once again standing at the pinnacle of the industry, and was followed by manufacturers in the industry. This also confirms Wang Jingmin's words: Only by becoming a leader can we control and lead the market.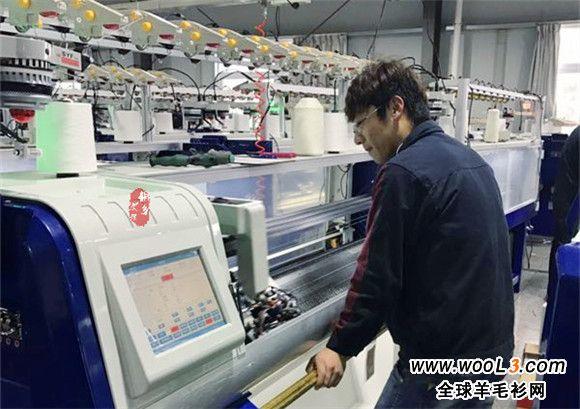 Through cooperation with Jiaxing College and Hangzhou Zheyang Electric Co., Ltd., "Qianglong Machinery" continuously promotes the research and development of new products. "I want to increase the "intelligent" manufacturing content of products through the "production, learning and research" approach." Wang Jingmin said, "Qianglong Machinery" continuously introduces "think tanks", focusing on high-end technology to achieve "snap-up".
   "We are developing a flat knitting machine with a 'sleeve integrated forming'. If this product is successfully developed, it will definitely subvert the working mode of the flat knitting machine." Wang Jingmin's words are full of "power" for the new products being developed.
   Expanding overseas markets is a new path taken by "Qianglong Machinery" in the past two years. Nowadays, there are "Qianglong Machinery" in Bangladesh, India, Mauritius, and other Southeast Asia, South Asia, and Middle East countries.
   Wang Jingmin said that branding and internationalization are the true pursuits of an enterprise. This year, "Qianlong Machinery" will continue to increase its overseas market share and help "Qianlong Machinery" go further.